Here's Bonnie! The First Pencil Sketch Set is Complete.
Welcome back! If you've been following along the past month or so, you'll have seen me picking up an actual pencil to practice with again (vs. the digital stylus I've grown accustomed to over the past several years) and rediscovering my love of this traditional approach. The humble pencil has reestablished it's place in the creation of my next comic, "I Thought It Would Be Zombies…"
I began by putting down some "character studies" of my primary cast. To date you've seen Sarah, Dave, and Julie. And now here comes Bonnie to complete my fantastic four! (Can I say that? Will I get sued? Oh well, it's going on the blockchain! I'll gamble like the indy comics rebel I am!)
---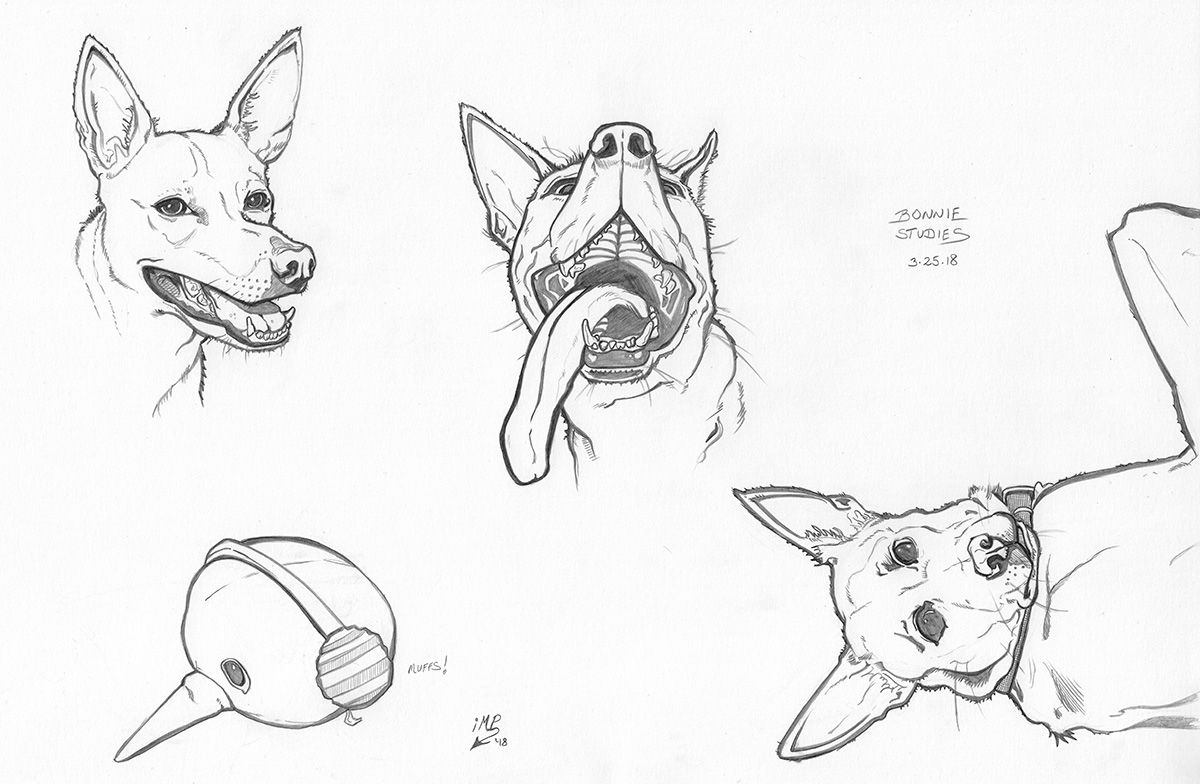 Studies of Bonnie; 2H Mechanical Pencil on 2 Ply Smooth Bristol Board
---
Happy Mistakes
As you glance at the sheet you may be asking yourself, "Which one of these is not like the other?" The answer of course being, "What the hell is that thing in the bottom left?"
Truth be told I was sketching Bonnie with a large stick in her mouth and was getting nowhere with it. Like all good artists I eraser obliterated the crappy sketch in a fit of rage. (Ok, maybe more like a fit of depressed ambivalence) With that area of the paper no longer taking well to the touch of the pencil… I had to keep it simple.
As I'd looked over my reference images of Bonnie, my eye had been drawn to one of her stuffed toys. At first I thought it was a bird… now I think it may possibly be a decapitated snowman head… but I digress. Either way I'm affectionately calling it "Muffs" for now.
Why am I rambling about this???
The important thing is, as I was just filling out the page with this little doodle of "Muffs" it was really helping flesh out Bonnie for me. While Bonnie is Sarah's dog, I do not want to see her as a prop. Bonnie is a character in her own right.
One of the main themes that will flow through the story of these unlikely heroes facing a magical apocalypse, is the concept that heroism doesn't emerge from acts of self preservation, rather it flows from these characters who care about someone or something else more than themselves. Everybody is looking out for the next "person" down the chain… and in my mind "Muffs" may have just become the final link, Bonnie's baby that she just can't leave behind even at the end of the world. As this ratty plush toy encrusted in drool journeys along through a magical world it may play a more pivotal role than even I can imagine right now…
I'm already seeing some interesting possibilities and fun scenes in my head regarding Bonnie's relationship with "Muffs." And that's why for now I'll consider it a "happy mistake," because a shitty fetch sketch led me to some writing that I'm excited about.
---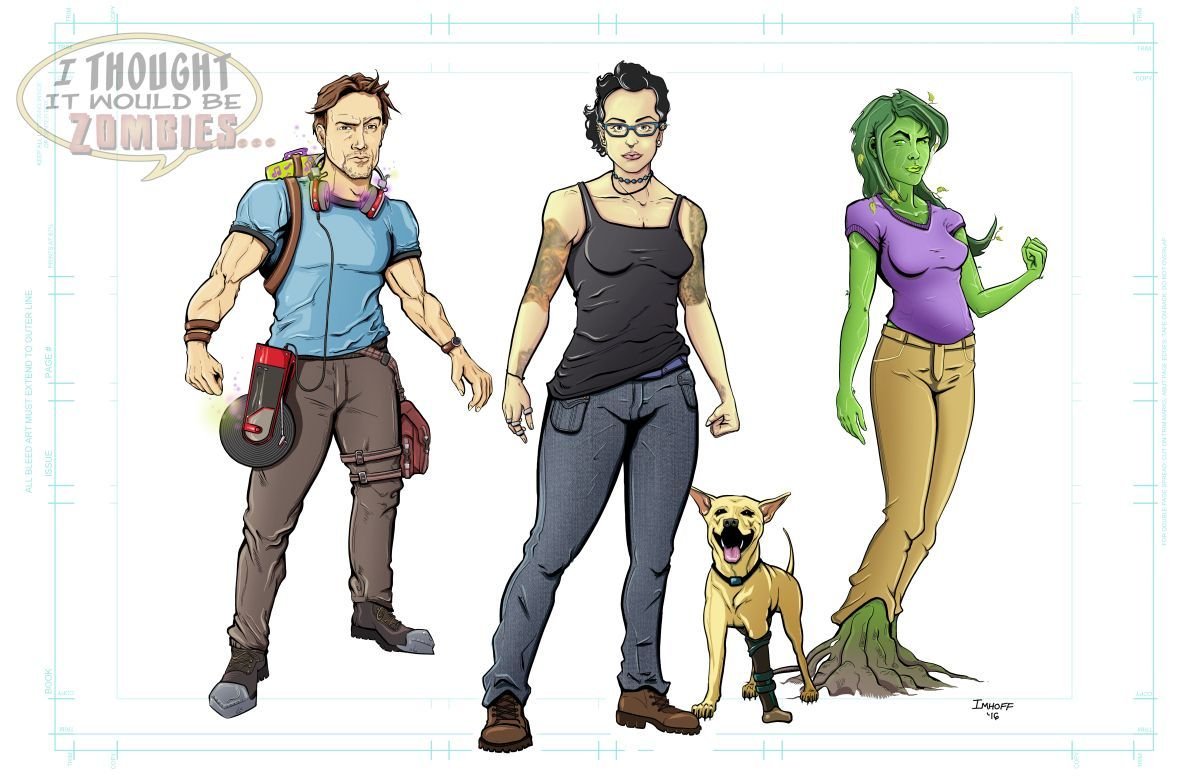 ---
So What's Next?
---
I'll probably share me penciling the cover of issue #1. I'd previously started it digitally but will transfer it to Bristol board and take a traditional crack at it. And I'll be wanting to experiment with some ink techniques on these sketches as well. All this is to keep the art engine idling as I plot, plan, and write the story of "I Thought It Would Be Zombies…" with the goal of finishing the first issue by the end of this year.
See you in the funny papers!
-Bryan Imhoff